Barstool Sports & Facebook Mutually Agree To End Tailgate Show
Back in 2017, before PASPA was repealed and the Barstool Sportsbook, there was the weekly college football show live broadcast on Facebook. This didn't last long though and after only six weeks the social media giant along with Barstool Sports mutually agreed to end the show.
This was down two both viewer numbers and the logistics of the live broadcast. As one Reddit user commented:
"Who the fuck wants to stare at Facebook live for 30 minutes on their phone during game days?"
With a high of only 150,000 viewers over this six-week period, it wasn't worth the effort or time to create the show. That said, Facebook and Barstool agreed to partner together on other projects.
Although, now in 2022, the main focus of Penn National Gaming-owned Barstool is the online sportsbook that is regulated in 12 states.
What are C-Level Sports Technology Executives Closely Monitoring Next Year (2023)
Technology has changed our world, some would argue for the better and others would argue against this. Whichever camp you're in, we can safely say that technology has helped sports on multiple levels.
So, it's no surprise that C-Level sports technology executives are closely monitoring the latest trends. Virtual Reality (VR) and Augmented Reality (AR) are two technologies that have been gaining a lot of traction in recent years, and it's likely that they will continue to do so in the coming year.
Executives are also keeping an eye on wearable technology, as well as data analytics which we'll touch on in this article. By understanding how these technologies can be used to improve the performance of athletes and sports in general, executives can help their businesses grow. In an ever-changing landscape, it's important for sports technology executives to stay ahead of the curve.
AR
Augmented reality (AR) is a technology that overlays digital information in the real world. It has a wide range of potential applications, from entertainment to education. In the realm of sports, AR has the potential to enhance the fan experience by providing live updates and statistics, as well as instant replays and highlights.
We looked at this in more depth in this article, so check that out if you want a deep dive.
VR
Virtual reality (VR) often gets confused with AR and the two are similar in ways, however, there are differences too. Using VR technology, athletes and coaches can simulate game situations and practice their skills in a virtual environment. This can provide a realistic and immersive training experience that can help athletes to improve their performance.
VR can also be used to create virtual stadiums, giving fans the opportunity to experience live events in a completely new way. In the future, virtual reality is likely to become an integral part of the sports industry, providing new ways for athletes to train, fans to watch, and businesses to promote their products which is why any sports technology CEO worth their salt needs to be up to date with this area.
Data Analytics
As any sports fan knows, data is essential to understanding the game. By tracking everything from player stats to team performance, data gives us a clear picture of what's going on out on the field.
But until recently, collecting and analyzing sports data was a time-consuming process that required manual input from analysts. However, new sports data technology is changing that. By automating data collection and analysis, sports tech is giving us a real-time view of the game that was previously much harder.
This means that we can now track player movements, understand team strategies, and make real-time adjustments to improve performance. In short, sports tech is giving us a whole new way to understand and enjoy the game.
This lends itself well to the online sports betting industry as it allows players to get real-time stats so they can make in-game bets. SimpleBet is a dedicated micro-betting company that focuses on this and data is vital for them. The owner of SimpleBet even partnered with Jake Paul to launch Betr, a new US sportsbook focused on in-game/micro betting.
Ever since PASPA was repealed, data has become a goldmine for the sports betting industry in the US. Two of the largest sports companies that supply data to gambling businesses are SportsRadar and Genius Sports.
These companies were doing well before states started regulating due to online sports betting being legal in other countries around the world. But, now they're growing faster and will continue to with more states opening up each year.
Machine Learning
Machine learning (ML) is a branch of artificial intelligence that is concerned with the development of algorithms that can learn from data. As US sports are heavily data-focused, just look at the film Moneyball, ML has begun to play an important role in the world of sports.
Machine learning algorithms can be used to analyze video footage of games, identify patterns, and make predictions. For example, machine learning can be used to predict the outcome of a football or soccer game or the performance of a tennis player.
It can also be used to improve the training of athletes. For instance, machine learning can be used to identify the ideal time for an athlete to rest between training sessions. As machine learning continues to develop, it is likely that it will increasingly be used in sports in order to improve performance and identify new trends.
The Current State of AR in Sports and How it's on Pace to Explode
In augmented reality (AR), computer-generated graphics are superimposed over the user's present view of the real world to augment real-world views. The user's condition of perception is then enhanced or enlarged as a result. Mobile phones play a big part in frequently producing this unique new perspective as that is the device that everyone now has in their pockets.
Furthermore, it is one of the emerging technologies that has recently made a splash in sports globally.
In this article, we will dig into some of the most significant examples of AR in the sports world. We will also put some light on the perspective of what the future holds for AR in the world of sports.
Both augmented reality (AR) and virtual reality (VR) are going to change the ways fans interact with sports both in and out of stadiums. We're going to look at how AR has been implemented in the past and what the current state of AR in sports actually looks like.
So, if you're interested in how sport and tech can come together with this hot technology, keep reading.
Help Athletes in Training
We're going to start by looking at how augmented reality can help athletes in their day-to-day training, rather than from a fan point of view. As AR is used for visual displays, athletes are going to be able to check their stats whilst they're on a break in training.
In this video below, you can see how the company VGolf is helping this with the addition of smart glasses. Being able to see practice from home or even see all of your stats from the driving range whilst you play is extremely beneficial.
This can be applied to basically all sports in its own way and with smart glasses getting more advanced, we're sure in the next 5 to 10 years this area will be used by more than just pro athletes.
To be honest, augmented reality (AR) for sports coaching and training is still in its infancy. However, it holds enormous promise for the future, especially if consumer headsets become more accessible.
Combining computer vision and AI in these circumstances will result in some astonishing improvements. It's quite simple to picture a headset that can recognize the flight, speed, and spin of a tennis ball and instruct a player on how to return it properly.
There are numerous additional sports training possible use cases. By taking into account the topography, angle, and spin, for instance, this AR tool enables you to analyze the direction and power to putt a golf ball. In other games, like snooker and football, this kind of gadget might be quite useful.
Although, it will always be hard to replicate the physical training that is needed in football, soccer, and rugby. But, an individual sport like tennis could benefit greatly, see the next section for an example from 2018.
Champion's Rally
In 2018, American Express teamed up with the Lawn and Tennis Club England to bring a virtual reality game to Wimbledon. Two-time Wimbledon champion, Andy Murray, got involved too and was incorporated into the game.
Here's a video of John McEnroe playing the augmented reality game which is apparently harder than it looks. The state of the AR in sports today in 2022 is much more advanced in as little as four years.
Video gaming
It is a game where players use energy balls and shields to exert power on a real-world court. Video games have been reimagined by AR to push athletes further than they ever imagined they could go.
The best example is HADO sports. In this game, the participants have to compete in an arena. You have to try flipping and bending to avoid being struck by the energy balls of the opposite team. One team is on one half and the other team is on the other. During a timed event, the objective is to strike the opposing team with as many energy balls as you can in order to deplete their "lives" which in turn earns your team points.
This is very popular in Asian countries, especially Japan. Check out this video below to get a better idea of how the game works.
Sports medicine
Augmented reality has a lot of potential applications in the field of sports medicine too. Consider athletes who use wearable technology and sensors like a hololens can follow an athlete's motions and show you what's occurring with their joints and bones.
With the use of this method, it will be feasible to watch someone's movements in real-time. You can quickly determine what is happening if a player is hit. It is possible to examine an athlete's movements and development while he recovers from an injury.
Entertainment and Fan Engagement
Sports entertainment and fan interaction are perfect applications for augmented reality. Every fan wants to be able to watch a game from the stadium, but this means that you might miss out on pre match and in game statistics that you'd see on your TV screen if you were watching at home.
Amazing AR features include the ability to make an 80-foot football player come to life. Additionally, highlighting player statistics with text above the field for the entire game is an excellent approach to draw in spectators and even helps people pick what they're going to bet on. If online gambling is legal in your state that is.
Broadcasting
By making the rules clear, identifying the players, and emphasizing important features of a game that could otherwise go unnoticed, AR can significantly aid in attracting and keeping first-time sports spectators.
Deeper statistics and player comparisons can aid more knowledgeable viewers in better understanding the game they're watching. Interactivity also enables viewers with varying comprehension levels to take advantage of the experience with the appropriate improvements they would personally like to see.
While there have long been visual enhancements in sports, we're starting to see a more organic integration of augmented reality into sports broadcasts. A current instance is TV 2's coverage of cycling, which included 3D models on a table in front of the presenters.
Esports
A bigger topic of interest is the application of augmented reality in esports. It mostly includes professional players' competitive multiplayer video game competitions. This is because of the abundance of ready-made 3D content in such games, which may be effectively included in the coverage.
The most popular one-on-one fighting video game, Street Fighter, is a wonderful illustration of this. AR characters were recently integrated into live TV coverage of the Street Fighter V Invitational tournament.
Characters made appearances throughout the program, whether they were hanging over the broadcasters or striking various battle positions. This is only one illustration of the entertaining use of augmented reality in broadcasting.
What the future holds?
From a very far-off perspective, the usage of AR may completely transform how we watch and interact with sports. It isn't going to happen overnight and augmented reality and virtual reality have been around for longer in sports than you'd think.
As long as the experience for people isn't unpleasant and is only beneficial, then we're sure it's something that will be around for the future to come.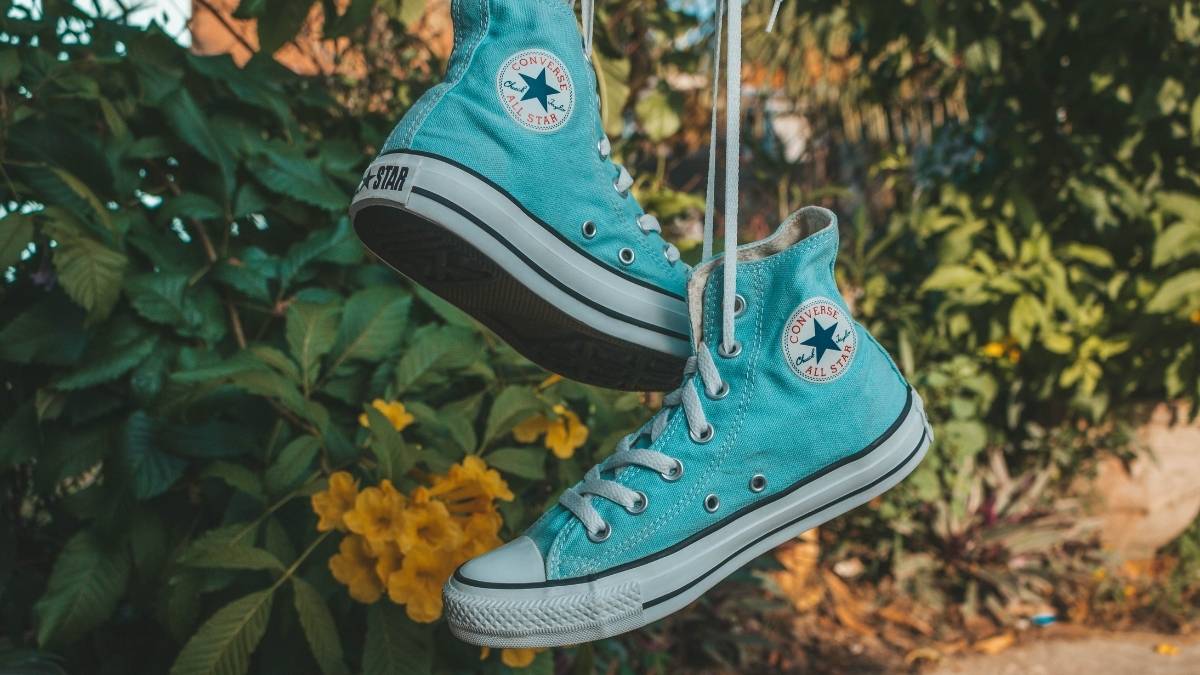 Everyone will be aware of the Converse brand due to its signature trainers, the Chuck Taylors. But, who is Chuck Taylor exactly?
Well, that's what we're going to look at today to find out how this name became associated with Converse.
Where it Began
To start, Converse was a company that started in 1908, and to be clear Chuck Taylor wasn't the founder. However, he was a very important person in the growth of the business, especially in helping sell the shoes that would become known as the Chuck Taylor All Stars.
Chuck Taylor was a basketball player and became an ambassador of the shoes helping to sell them to coaches and players of other teams. Spalding at the time was its main competitor and it was his job to grow the shoe business for basketball players.
He played for Converse basketball teams as well as being a salesman for the brand. This allowed him to even get involved with making suggestions of how the shoe could be improved for its performance. This included extra support for the foot and a reinforced patch to protect the ankle.
Chuck Taylor hence played a role in getting the 1936 US Olympic basketball team to wear them at the games in Berlin. Three years after in 1939, players sported the shoes in the first NCAA championships.
The man synonymous with the shoe and Converse brand didn't receive royalties for shoe sales, but it was rumored that he did have access to use the company bank account to expense things.
The Chuck Taylor Shoes
The shoes are now a staple of different communities across the world and have been worn by many famous names over the years like Kurt Cobain and James Dean. But, the shoes were first designed for basketball players because they were comfortable and durable.
Today, Chuck Taylors are worn by men and women of all ages and come in many colors and designs. It's funny how they've gone from being a versatile sports shoe to a style item.
Competition in Basketball
By 1960, the Chucks were the status symbol worn by every basketball player in the NBA. Some legends made a name for themselves wearing these shoes.
This status isn't the case any longer as Nike has become the dominant name in basketball with the Air Jordan shoes. Other sports shoe brands compete for players' use including Under Armour, Adidas, Puma, and Reebok.
Final Takeaway
Chuck Taylor was a trendsetter who put Converse on the map. He deserves all the credit he gets for helping to propel this brand to one of the most well-known in the world still in 2022.
He might not be well-known as it's the Converse brand that gets the plaudits, but that's why we've wanted to put a face to the name of the legendary Chuck Taylor All Stars.