The Current State of AR in Sports and How it's on Pace to Explode
In augmented reality (AR), computer-generated graphics are superimposed over the user's present view of the real world to augment real-world views. The user's condition of perception is then enhanced or enlarged as a result. Mobile phones play a big part in frequently producing this unique new perspective as that is the device that everyone now has in their pockets.
Furthermore, it is one of the emerging technologies that has recently made a splash in sports globally.
In this article, we will dig into some of the most significant examples of AR in the sports world. We will also put some light on the perspective of what the future holds for AR in the world of sports.
Both augmented reality (AR) and virtual reality (VR) are going to change the ways fans interact with sports both in and out of stadiums. We're going to look at how AR has been implemented in the past and what the current state of AR in sports actually looks like.
So, if you're interested in how sport and tech can come together with this hot technology, keep reading.
Help Athletes in Training
We're going to start by looking at how augmented reality can help athletes in their day-to-day training, rather than from a fan point of view. As AR is used for visual displays, athletes are going to be able to check their stats whilst they're on a break in training.
In this video below, you can see how the company VGolf is helping this with the addition of smart glasses. Being able to see practice from home or even see all of your stats from the driving range whilst you play is extremely beneficial.
This can be applied to basically all sports in its own way and with smart glasses getting more advanced, we're sure in the next 5 to 10 years this area will be used by more than just pro athletes.
To be honest, augmented reality (AR) for sports coaching and training is still in its infancy. However, it holds enormous promise for the future, especially if consumer headsets become more accessible.
Combining computer vision and AI in these circumstances will result in some astonishing improvements. It's quite simple to picture a headset that can recognize the flight, speed, and spin of a tennis ball and instruct a player on how to return it properly.
There are numerous additional sports training possible use cases. By taking into account the topography, angle, and spin, for instance, this AR tool enables you to analyze the direction and power to putt a golf ball. In other games, like snooker and football, this kind of gadget might be quite useful.
Although, it will always be hard to replicate the physical training that is needed in football, soccer, and rugby. But, an individual sport like tennis could benefit greatly, see the next section for an example from 2018.
Champion's Rally
In 2018, American Express teamed up with the Lawn and Tennis Club England to bring a virtual reality game to Wimbledon. Two-time Wimbledon champion, Andy Murray, got involved too and was incorporated into the game.
Here's a video of John McEnroe playing the augmented reality game which is apparently harder than it looks. The state of the AR in sports today in 2022 is much more advanced in as little as four years.
Video gaming
It is a game where players use energy balls and shields to exert power on a real-world court. Video games have been reimagined by AR to push athletes further than they ever imagined they could go.
The best example is HADO sports. In this game, the participants have to compete in an arena. You have to try flipping and bending to avoid being struck by the energy balls of the opposite team. One team is on one half and the other team is on the other. During a timed event, the objective is to strike the opposing team with as many energy balls as you can in order to deplete their "lives" which in turn earns your team points.
This is very popular in Asian countries, especially Japan. Check out this video below to get a better idea of how the game works.
Sports medicine
Augmented reality has a lot of potential applications in the field of sports medicine too. Consider athletes who use wearable technology and sensors like a hololens can follow an athlete's motions and show you what's occurring with their joints and bones.
With the use of this method, it will be feasible to watch someone's movements in real-time. You can quickly determine what is happening if a player is hit. It is possible to examine an athlete's movements and development while he recovers from an injury.
Entertainment and Fan Engagement
Sports entertainment and fan interaction are perfect applications for augmented reality. Every fan wants to be able to watch a game from the stadium, but this means that you might miss out on pre match and in game statistics that you'd see on your TV screen if you were watching at home.
Amazing AR features include the ability to make an 80-foot football player come to life. Additionally, highlighting player statistics with text above the field for the entire game is an excellent approach to draw in spectators and even helps people pick what they're going to bet on. If online gambling is legal in your state that is.
Broadcasting
By making the rules clear, identifying the players, and emphasizing important features of a game that could otherwise go unnoticed, AR can significantly aid in attracting and keeping first-time sports spectators.
Deeper statistics and player comparisons can aid more knowledgeable viewers in better understanding the game they're watching. Interactivity also enables viewers with varying comprehension levels to take advantage of the experience with the appropriate improvements they would personally like to see.
While there have long been visual enhancements in sports, we're starting to see a more organic integration of augmented reality into sports broadcasts. A current instance is TV 2's coverage of cycling, which included 3D models on a table in front of the presenters.
Esports
A bigger topic of interest is the application of augmented reality in esports. It mostly includes professional players' competitive multiplayer video game competitions. This is because of the abundance of ready-made 3D content in such games, which may be effectively included in the coverage.
The most popular one-on-one fighting video game, Street Fighter, is a wonderful illustration of this. AR characters were recently integrated into live TV coverage of the Street Fighter V Invitational tournament.
Characters made appearances throughout the program, whether they were hanging over the broadcasters or striking various battle positions. This is only one illustration of the entertaining use of augmented reality in broadcasting.
What the future holds?
From a very far-off perspective, the usage of AR may completely transform how we watch and interact with sports. It isn't going to happen overnight and augmented reality and virtual reality have been around for longer in sports than you'd think.
As long as the experience for people isn't unpleasant and is only beneficial, then we're sure it's something that will be around for the future to come.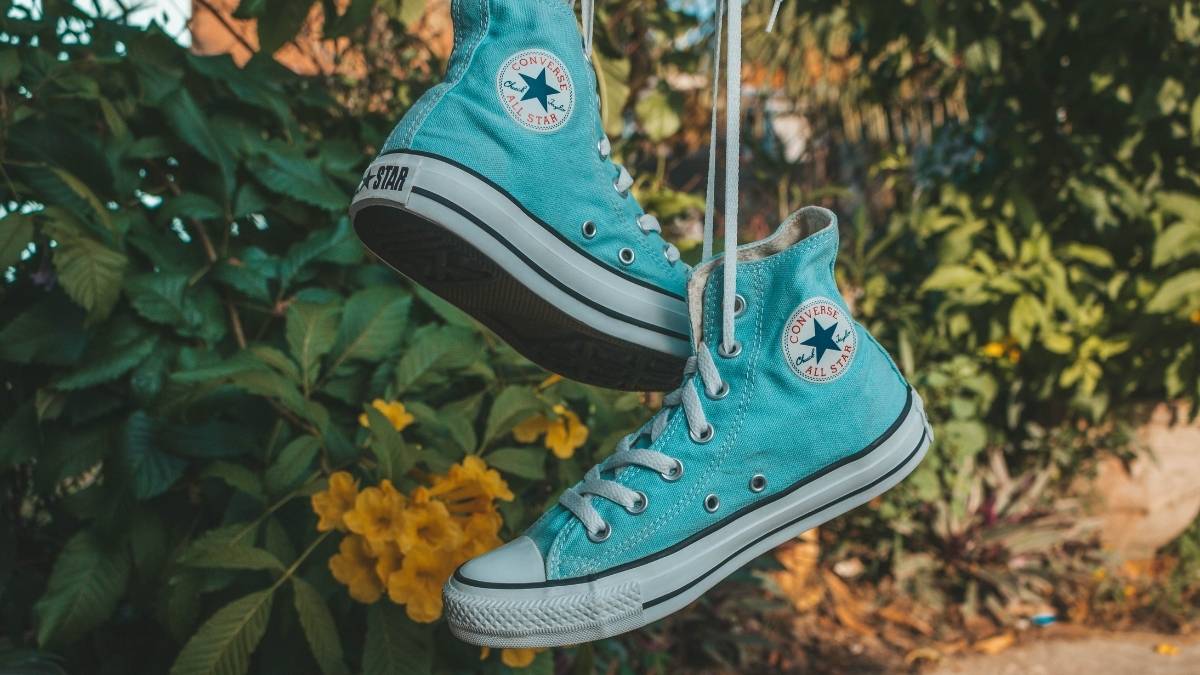 Everyone will be aware of the Converse brand due to its signature trainers, the Chuck Taylors. But, who is Chuck Taylor exactly?
Well, that's what we're going to look at today to find out how this name became associated with Converse.
Where it Began
To start, Converse was a company that started in 1908, and to be clear Chuck Taylor wasn't the founder. However, he was a very important person in the growth of the business, especially in helping sell the shoes that would become known as the Chuck Taylor All Stars.
Chuck Taylor was a basketball player and became an ambassador of the shoes helping to sell them to coaches and players of other teams. Spalding at the time was its main competitor and it was his job to grow the shoe business for basketball players.
He played for Converse basketball teams as well as being a salesman for the brand. This allowed him to even get involved with making suggestions of how the shoe could be improved for its performance. This included extra support for the foot and a reinforced patch to protect the ankle.
Chuck Taylor hence played a role in getting the 1936 US Olympic basketball team to wear them at the games in Berlin. Three years after in 1939, players sported the shoes in the first NCAA championships.
The man synonymous with the shoe and Converse brand didn't receive royalties for shoe sales, but it was rumored that he did have access to use the company bank account to expense things.
The Chuck Taylor Shoes
The shoes are now a staple of different communities across the world and have been worn by many famous names over the years like Kurt Cobain and James Dean. But, the shoes were first designed for basketball players because they were comfortable and durable.
Today, Chuck Taylors are worn by men and women of all ages and come in many colors and designs. It's funny how they've gone from being a versatile sports shoe to a style item.
Competition in Basketball
By 1960, the Chucks were the status symbol worn by every basketball player in the NBA. Some legends made a name for themselves wearing these shoes.
This status isn't the case any longer as Nike has become the dominant name in basketball with the Air Jordan shoes. Other sports shoe brands compete for players' use including Under Armour, Adidas, Puma, and Reebok.
Final Takeaway
Chuck Taylor was a trendsetter who put Converse on the map. He deserves all the credit he gets for helping to propel this brand to one of the most well-known in the world still in 2022.
He might not be well-known as it's the Converse brand that gets the plaudits, but that's why we've wanted to put a face to the name of the legendary Chuck Taylor All Stars.
Certain sports cost a lot more cash to participate in than others. Even purchasing a whole bag of used golf equipment from your local Sports store will cost more than purchasing a used volleyball, for example. Then there's the apparel cost, greens fees, and other expenses.
This article will go through various sports and how to get started in them. Whether you're searching for a new hobby sport or sports to try to meet more wealthy people, we believe you'll find something on our list!
Automobile Racing
Automobile racing is a fantastic motorsport that involves the racing of vehicles against one another. Some automobile racing activities include street racing, oval racing, and even racing on road courses, such as Formula One.
More people seem to be drawn to this fascinating sport because they are intrigued by the idea of what it takes to be the best and how to beat the other drivers. Rich individuals like the excitement and the adrenaline that taking part in this sport gives you.
Golf
There is no doubt that wealthy people like golf, especially businessmen. A large number of wealthy people are willing to spend some money on a trip to a golf course or gain membership in high-end golf clubs because they know how much time they can spend hanging out with people from similar backgrounds as theirs.
The game is played in a range of locations, ranging from exclusive country clubs to parks. You can buy a cheaper set of golf clubs, but most you'll be looking in the thousands of dollars.
Sailing
To be honest, the expense of a sailboat alone makes sailing a wealthy hobby sport. There are three basic kinds of competitive sailing races today: coastal inshore, offshore, and short course. There are fleet races, team races, and match races.
The International Sailing Federation organizes and regulates the sport's major competitions. Sailing is also unusual in that its races are mostly self-regulated.
You don't need to own a sailboat to start this sport, but it would help. Sailing clubs have boats that they own that people who want to learn can use. This can make it a sport for more people, not just the rich but it's still expensive for every session.
Horse Racing
Many people regard horse racing to be an outdoor pastime, something they love doing while they are outdoors in the sunlight. It is a sport that requires a lot of sweat and can be difficult, but it is also a sport that you will really love.
Horse racing isn't expensive for the jockeys as that is their job, but it is expensive for the owners of the horses. Thoroughbred horses cost thousands which is why it is an expensive sport.
Horse racing is a tremendously lucrative activity because people like betting on horse races. Horses are a costly position that the wealthy take pleasure in, even people like Sir Alex Ferguson and former England soccer player, Michael Owen, own horses that compete in the UK and Ireland.
Polo
Another sport that involves horses now, which makes it an expensive sport to take part in. Polo is also called colloquially "The Gentleman's Sport" since it is so closely linked with the British monarchy.
The sport, on the other hand, might be one of the oldest team sports in existence, with certain varieties of it being played in Persia approximately 2,000 years ago.
Polo is never watched on TV, but it is played by the rich in the Hamptons for example.
Skiing & Snowboarding
Skiing is pricey for a variety of reasons, but it takes place in areas that would otherwise be unreachable without a four-wheel-drive car and snow tires or chains, or dedicated bus transport.
Buying skiing and snowboarding gear is expensive as you need your clothing, skis or snowboard, goggles, helmet, boots, and so on. All of these items cost hundreds of dollars
A day lift ticket might easily cost more than $100 assuming you can even get to the mountain. That being said, alpine skiing is a great winter activity that has been around for over a century.
Water Skiing
Water skiing has typically needed the use of a speed boat to move the skier at high velocities over the water's surface. If a boat is not accessible, there are now cable systems that can pull the skier around a course, but it's not the same as having a boat.
The expense of buying and maintaining one of the most costly speed boats is the most restricting aspect of the sport of water skiing. However, if you already know someone who has a boat, the skis themselves are a terrific deal at a garage sale.
You also need to live near the sea or a lake if you want to take part in this sport frequently.
Tennis
Lawn tennis is a great racket sport that may be played by two teams or by a single player against another. Each player has half of the court and expensive tennis racquets with nylon strings are used to hit tennis balls back and forward.
There are several tennis courts in various locations that you may visit whenever you wish, but you'll be charged per hour for the court. That's unless you become a member of a club for a season for better prices.
Wealthy tennis players, on the other hand, join elite clubs where they may play secretly with business partners and other like-minded people. Brad Pitt is a well-known actor who enjoys playing tennis.
Conclusion
The fact is that the wealthy participate in nearly the same sports as the general public. However, if you look closely, you'll see that they don't play these games in the same manner that others do.
The amount of cash they spend to fulfill themselves while playing is what distinguishes them from the others.
Big Baller Brand Emoji App
The Big Baller Brand from LaVar Ball and Alan Foster is more than just clothing and shoes. Back in 2017, they produced its own emoji app to start becoming more of a digital company. This was for the start of the NBA season back then.
Below, you can see the app description when it launched:
"Are you a Big Baller? Show it with Big Baller Brand emojis!
When it comes to sport emojis, Big Baller Brand brings you the best of the best. All your favorite sayings (Stay in Yo Lane), BBB shoes and Ball family moments captured in animated emojis. No emoji is a bad emoji in the Big Baller World.
The world of sports hasn't seen anything quite like the Ball family. Now, you can be part of the Big Baller family with BBB emojis. Some features of our emoji keyboard:
Speak it into existence with LaVar Ball emojis
LaMelo Ball emojis in all their swagginess
Moves so smooth with Lonzo Ball emojis
Got the kicks? You gotta tell somebody with a Zo2 or Melo Ball 1 shoe emoji!
Dancing and more LiAngelo Ball emojis
Every season is basketball season with BBB Emojis presented by SportsManias. No one does basketball emojis​ any better than BBB.
No one!"
The app hasn't been updated since 2018 so it clearly wasn't a success from a business point of view.