Leylah Fernandez Net Worth
Leylah Fernandez has been getting more popular as she takes her tennis career to new heights. She is one of Canada's brightest prospects still at 19-years-old and even reached the US Open final in 2021 which added nicely to her net worth. Unfortunately, she lost out to the young British tennis star Emma Raducanu.
Since that tournament she has partnered with more brands and her estimated net worth is now at over $2 million. Subway is one of the brands that she has been working with recently, but she's had other sponsors for years. At only 19, she's already up to 15th in the WTA singles ranking.
Leylah Fernandez's Early Life
Leylah Annie Fernandez was born in Montreal, Canada, on September 6, 2002, to Filipino-born Irene Exevea and former Ecuadorian soccer player Jorge Fernandez. Leylah is fluent in three languages so she's not just a great tennis player, but a linguist too.
Leylah Fernandez's Career
In 2018, she made her professional tennis debut and gone onto compete in the four Grand Slams since then. She even reached the final of the US Open in 2021 earning $1.25 million.
In the French Open championship match of the 2019 Junior Grand Slam, she was victorious over Emma Navarro. She was already playing professionally as well as in the juniors at this time.
Leylah Fernandez's Personal Life
Currently, Fernandez is not dating anyone. Her background and present personal life have remained a well-kept secret although she's active on social media with over 300k followers on Instagram.
She looks to want to focus on her profession in order to limit distractions. In addition, she makes the most of her time spent with loved ones.
Leylah Fernandez's Salary & Net Worth
As a professional tennis player, Leylah Fernandez has amassed a substantial amount of wealth. She has won approximately $2,286,772 in prize money over the course of her career, and her annual income is estimated to be over $520,000.
According to sources, her total value is at least $2 million especially after placing second on the 2021 US Open. Consequently, she is considered one of the wealthiest tennis players of her generation. Additionally, she is getting more brand endorsements as she gets more famous with popular brands such as Gatorade, Subway, and even Morgan Stanley.
More Tennis Players
Sloane Stephens
Madison Keys
Amanda Anisimova
Matteo Berrettini Net Worth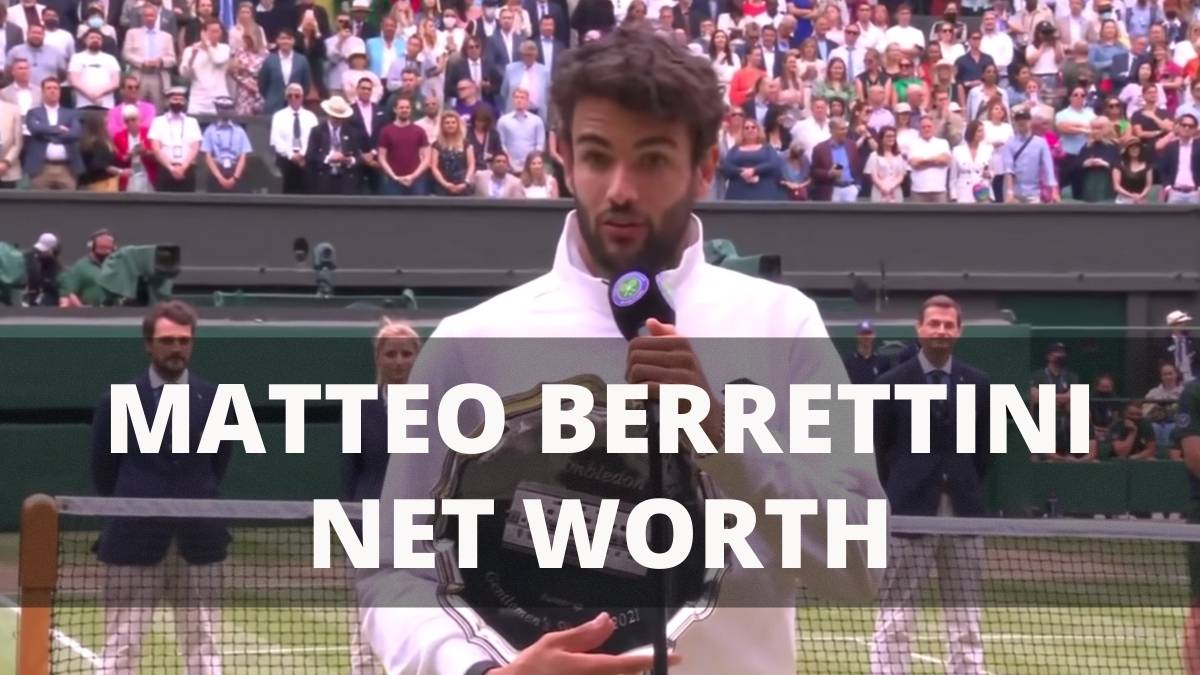 After reaching the Wimbledon 2021 final, Matteo Berrettini became one of Italy's most famous and youngest professional tennis players. He is currently ranked 10th in the Association of Tennis Professionals (singles).
Now that his public profile has grown, his net worth has along with it. Matteo Berrettini's net worth is currently estimated to be over $7.5 million. The fact that he's still 26 means this will keep getting larger as he's still got a lot of time left on the court.
Personal Life
Matteo Berrettini was born on 12th April 1996, in Rome, Italy, to his parents, Luca Berrettini and Claudia Bigo. He has a younger brother Jacopo, who coincidentally also happens to be a tennis player. The player is not yet married, but he is in a relationship with T Ajla Tomljanovic.
The player's height is 6'5 and his weight is 209 lbs. His powerful and muscular physique earned him the nickname 'The Hammer'. He has a hammering forehand that serves at a speed of 130 mph (209.21 kph).
Matteo's Professional Career
Matteo Berrettini began his professional career in 2015 at the age of 18. His first victory in tennis was in January 2018, when he won the ATP title. The following year, he won his second ATP title after beating Filip Krajinovic at the Hungarian Open. His most incredible breakthrough came after defeating a top-five ranked player Alexander Zverev.
Again in 2019, Matteo defeated Dominic Thiem during the Shanghai Master quarter-finals, which helped him reach the semifinals and a second victory against a top 5 ranked player.
During the 2019 ATP finals in London, Matteo was number 8 despite being defeated by Roger Federer and Novak Djokovic in the round-robin.
Matteo continued with his winning ways in Stuttgart when he defeated Canadian Felix Auger-Aliassime in the finals. His competitor aimed to win the ATP tour title, but Matteo stopped that. It was a fantastic game since he didn't lose any service, making him the sixth man to win two consecutive tournaments without dropping a single service since 1999.
In 2020, Matteo Berrettini withdrew from the ATP Cup competition due to his physical problems. However, he rejoined his team in 2021, and they reached the ATP Cup finals due to his outstanding performance during the tournaments.
Unfortunately, Matteo didn't win the final of Wimbledon 2021 as Novak Djokovic managed to defeat him after the Italian won the first set.
Matteo's Career Titles
Matteo has won five ATP singles titles. The first was the 2018 Swiss Gstaad Open, followed by Stuttgart and Budapest Open.
Charity and Foundation
In 2019, Matteo Berrettini launched and started a charity campaign in Africa. He collaborated with Cancer Research UK to surprise young tennis fans and cancer survivors.
Matteo Berrettini's Net Worth
Matteo's net worth is over $7.5 million. His primary source of income comes from the earnings he gets for playing professional tennis. He also earns his money from endorsement deals.
Lotto has sponsored the player for clothes, shoes, and rackets. In July 2019, Peugeot made him a brand ambassador. The Italian food company Colavita, best known for its olive oil, is the key sponsor of the player. He wears a shirtsleeve with the company's logo.
Additionally, Signum makes the strings for his racquets. Capri Watch has partnered with Matteo for a long time too and he is also a brand ambassador for Uliveto mineral water.
More Tennis Players
Wimbledon Prize Money 2022
With only two weeks left before the start of Wimbledon 2022, the All England Lawn Tennis Club announced the prize money a couple of days ago. The Wimbledon prize money in 2022 will be a record high of £40,350,000 ($50 million).
There has been some controversy with this year's tournament already after it was announced that Russian and Belarusian tennis players won't be allowed to take part.
Because of this both the ATP and WTA have stripped all ranking points for players that are involved. Still, we're sure that it will be as competitive as always not only for the prize money but also for the huge pride that comes with winning the tournament.
Novak Djokovic is the bookies' favorite to win the men's singles, whilst Iga Swiatek is the favorite in the women's.
As it's the largest prize pot that Wimbledon has ever seen, this means that the winners of each event will receive significantly more than in previous years. You can see the prize breakdowns for each event below.
Men's & Women's Singles Prize Money
| | |
| --- | --- |
| Result | Prize Money |
| Winner | £2,000,000 ($2,500,000) |
| Runner-up | £1,050,000 |
| Semi-finalist | £535,000 |
| Quarter-finalist | £310,000 |
| 4th Round | £190,000 |
| 3rd round | £120,000 |
| 2nd round | £78,000 |
| 1st round | £50,000 |
Men's & Women's Doubles Prize Money
| | |
| --- | --- |
| Result | Prize Money (per pair) |
| Winner | £540,000 ($660,000) |
| Runner-up | £270,000 |
| Semi-finalist | £135,000 |
| Quarter-finalist | £67,000 |
| 3rd Round | £33,000 |
| 2nd round | £20,000 |
| 1st round | £12,500 |
If you want to see the prize money for the mixed doubles, wheelchair singles and doubles (including quad wheelchair), then you can find it on this page on wimbledon.com.
Wimbledon Prize Money History
Here is a look at the total prize money for the past 5 tournaments, not years as it was canceled in 2020 due to COVID. It's great to see that the Wimbledon prize money has reached a new record high this year and hopefully, this will continue in future years.
| | | |
| --- | --- | --- |
| Year | Total Prize Money | YoY Difference (%) |
| 2022 | £40.35 million | 15.2% |
| 2021 | £35 million | -7.9% (compared to 2019) |
| 2020 (canceled) | n/a | n/a |
| 2019 | £38 million | 11.76% |
| 2018 | £34 million | 7.6% |
| 2017 | £31.6 million | |
If you want to see the full history of the Wimbledon prize money then you can on its website. Including the prize money, all the way back to 1968 before gender equal pay across the tournament was introduced.
Amanda Anisimova Net Worth
Amanda Anisimova is an American Tennis Player who was born in Freehold Township in New Jersey, USA. Her parents are Russian, but she's lived in the United States all her life and started playing tennis at a young age.
At 21 years old she has managed to amass a net worth of $2 million and is currently 25th in the WTA rankings. Keep reading to find out more about her profile including her career earnings.
Career Path
Amanda's coach is Darren Cahill, who has helped her throughout her career. She is 1.8 m tall and now resides in Aventura, USA. Amanda ranks number 25 in the WTA and has ranked in the top 100 since turning 17.
Amanda began her professional tennis career at 14 in 2016 and went on to qualify at the US Open after receiving a wild card entry. She won her debut match but lost out in the next round.
Anisimova made her first finals appearance in 2017 at the Miami Open. That same year she made her Grand Slam debut at the French Open, although she lost her first game in that tournament.
Her outstanding performance saw her enter the Top 200. This all happened whilst she was only 15 years of age. She plays right-handed with a two-handed backhand.
As a tennis player, she became prominent at the 2018 Indian Wells Open when she defeated Petra Kvitova. Not only that, but she then managed to secure her first title at the FSP Gold River Women's Challenger tournament which took place in Sacramento.
In 2018 Anisimova rose to the challenge and made her first WTA at the Japan Open. In the years that followed, 2020 and 2021, she struggled through the seasons but eventually got back up in 2022 when she secured her second WTA title. She secured the title at the Melbourne Summer Set.
Anisimova's Net Worth & Career Earnings
Anisimova has earned US$ 2,787,829 in prize money from her tennis winnings. She has managed to win two WTA titles and has reached three WTA finals thus far.
She is a brand ambassador for Gatorade and also signed a deal with Nike which was reportedly worth $100 million. This contract includes the provision of apparel and shoes for her.
The star also represents the Nike brand through various campaigns on social media platforms. Babolat, the French tennis, badminton, and padel equipment supplier is another of numerous companies that sponsor Anisimova.
She uses their Babolat Pure Drive and uses Babolat kit bags and racquets. Another sponsorship included in her list is Therabody, with a multi-year ambassadorship deal.
Other Tennis Players